Yes, Sacrificed to the Dragon: Part Two a little early but I don't think any of my readers will mind. 😉
You can buy it for $0.99/77p/99EUR at the following vendors:
Amazon US: http://amzn.to/1u0mcHU
Amazon UK: http://amzn.to/1pFIFWG
Amazon DE: http://amzn.to/ULnzxI
Amazon CA: http://amzn.to/1rGBm3z
Amazon AU: http://bit.ly/1s3ijTh
Barnes & Noble: http://bit.ly/1qIZeHS
ARe: http://bit.ly/1qhVGYf
Kobo: http://bit.ly/1zrqOtF
iTunes: http://bit.ly/1kl8UFU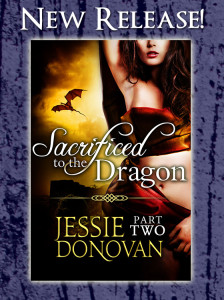 SYNOPSIS:
PART TWO
Abandoned and humiliated, Melanie tries her best to maintain her composure as Bram explains the reason for Tristan leaving–something called a "mate claim frenzy". In other words, the next time Tristan comes face to face with her, his inner dragon will take control and claim her for his own. Both Bram and Samira try to convince her to accept his attentions earlier than her contract specifies or risk putting not only herself, but also the members of their clan in danger.
Tristan stays away from Melanie as long as possible, but to prevent his dragon from completely taking over, he returns to Stonefire's lands the afternoon after the First Kiss ceremony. When he shows up naked on Melanie's doorstep, his human-half maintains control long enough to garner her consent.
Now it's only a matter of time before Melanie conceives and fulfills her contract. But once she does, will Tristan overcome his hatred of humans and stay with her, or will he push her away?