September is full of new releases for me! In addition to Parts Three and Four of Sacrificed to the Dragon, I have this full-length shifter book. Here's the synopsis and cover for Reclaiming the Wolf: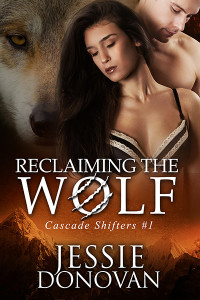 Female wolf-shifter clan leaders are rare, but Kaya Alexie thrives on the challenge and can handle anything the men of her pack throw her way. However, when the male cougar-shifter who broke her heart ten years ago shows up on her doorstep with a dead wolf-shifter in tow, her whole world goes off-kilter. She's determined to ignore him, but when a virus threatens to decimate her clan, she has no choice but to work with her ex and his brother to survive.
Sylas Murray is sent by his brother to ask for the wolves' help in solving the mystery of a recent wolf-shifter attack. There are a few problems, however. Not only is he a cougar-shifter among a pack of wolves, the clan leader is also his ex-girlfriend. To say they had a bad break-up would be putting it mildly—Sy's actions nearly destroyed the truce his clan had with the wolf-shifters. But as a virus threatens the GreyFire wolves, Sy and Kaya must put aside their past to find a cure.
As they work together and race against the clock, Sy starts to wonder why he let Kaya go in the first place. Despite their past, will he be able to reclaim the wolf that captured his heart and start over?
Available September 11th.