Sacrificed to the Dragon: Part One Release Day!
Posted Jul 12 2014, 5:07 pm in New Release, stonefire dragons
It's finally here! It's release day!
Do you love dragons? What about hot, sexy men who can shift into one?
Read the first installment of my sexy dragon-shifters today! And did I mentioned they're British too? It's only $0.99 / 99p!
Amazon US: http://amzn.to/1twv8bG
Amazon UK: http://amzn.to/1y8azRL
Barnes and Noble: http://bit.ly/1orcQ3f
ARe: http://bit.ly/W4EM6O
Kobo: http://bit.ly/W4FkJZ
iTunes: http://bit.ly/1jms0dP
And don't forget to spread the word! Thanks and enjoy!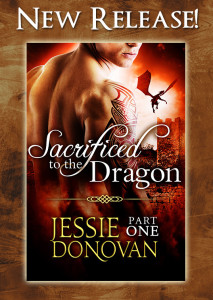 1 Comment
Comments