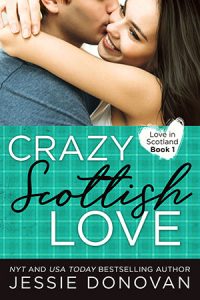 Donella goes to Scotland to avoid the endless line of awful first dates, as well as to escape the pressure from her mother to settle down. Robbie only wants to protect his daughter and avoid attachments. However, as the former childhood friends-turned-enemies reunite and collide, sparks start to fly. Maybe, just maybe, the person they least expect to fall for ends up being their happily ever after.

Oh, and don't forget to throw in some men in kilts running from security, a party with 1980s power ballad dance fighting, and a grandmother who doesn't mind discussing lingerie and sex fantasies, and you have a rom-com that will make you laugh and smile. Crazy Scottish Love is available now:

Amazon \\ Amazon UK
Apple Books // Nook
Kobo // Amazon AU
Amazon CA // Amazon DE
Google Play
NOTE: The paperback will be on sale soon. The audio version will be out in early 2019.