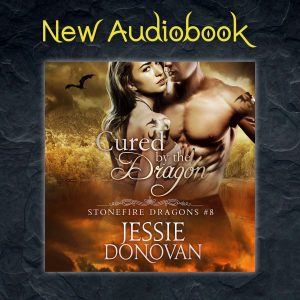 I know it's been a while since the last Stonefire book came out in audio, but we've caught up with the Lochguard series and I finally have Dr. Sid's story!
A female dragon-shifter without a dragon. A dragonman who sealed off his heart after his mate's death. Together, can Sid and Gregor find the happy ending they both deserve? Cured by the Dragon is a full-length book of approximately 69,000 words (just over 7 hours) and some are saying it's their favorite Stonefire book to date. Click on your vendor of choice to find out why and to hear Matthew Lloyd Davies' wonderful narration:
Amazon | Amazon UK
Audible | iTunes: Coming Soon!
PS–Want to try Audible free for 30 days and get two free audiobooks? Then learn more by clicking here.