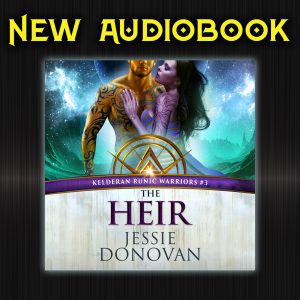 Twenty-three years ago, Azalyn and Prince Keltor were driven apart. Not even Azalyn was aware of the secret she carried at the time. But when enemies of Prince Keltor capture Azalyn to use against him, it sets off a chain of events that will forever change Azalyn, Keltor, and everyone on Keldera in ways no one could've imagined.
The third book of the Kelderan Runic Warriors series, The Heir, is now available in audio format! Emma Wilder and Jeremy York are back in this nearly 9 hour long story, and give a wonderful performance. Click your vendor of choice:
Amazon | Amazon UK
Audible | iTunes
Prefer to read the ebook or paperback? You can find all the links by clicking here.
PS—Want to try out Audible for 30 Days and receive two free audiobooks? Click here for more information.