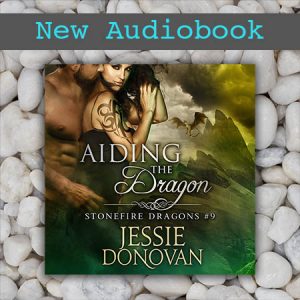 When the secret of a female clan leader leaks in Ireland, it's up to Teagan O'Shea to prove she's as much a leader as any male dragon-shifter. Aaron Caruso was sent to the Irish clan to help strengthen alliances and a female of his own is the last thing he wants. Yet as the pair works together to protect Clan Glenlough, sparks fly in more ways than one…the Aiding the Dragon audiobook is eight hours long and has an Irish narrator! Check out your vendor of choice:
Amazon | Amazon UK
Audible | iTunes
Prefer the ebook or paperback versions? You can find all the links on my website.
PS—Want to try Audible free for thirty days and get two free audiobooks? Learn more here.