Posted Nov 24 2014 in New Release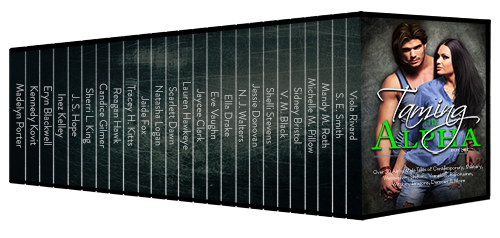 When an alpha is too hot to handle, what's a girl to do? Simple…Tame the Alpha and make him purr.
Taming the Alpha Box Set: Over 20 Alpha Male Tales of Contemporary, Military, Werewolves, Shifters, Vampires, Billionaires, Witches, Dragons, Demons & More for $0.99. Available for preorder!
From deliciously sizzling contemporary bad boys, to pulse-tingling paranormal hotties, you're sure to fall in love and in lust with any or all of these alphas. Over twenty fabulous authors bring their A-game to tempt your every desire.
~~~~~~~
There are a lot of great authors in this set and I'm honored to be a part of it! Here are the links to preorder your copy:
Amazon: http://amzn.to/1zDgkqW
Amazon UK: http://www.amazon.co.uk/gp/product/B00PMG53UY
Amazon CA: http://www.amazon.ca/gp/product/B00PMG53UY
Amazon AU: http://www.amazon.com.au/gp/product/B00PMG53UY
Amazon DE: http://www.amazon.com.de/gp/product/B00PMG53UY
iBooks: https://itunes.apple.com/us/book/id944073837
Nook: http://bit.ly/1tnfRnz
Kobo: http://bit.ly/1z3iPSw
Comments
One response to "Taming the Alpha Boxed Set for $0.99!"