Reclaiming the Wolf Release Day!
Posted Sep 10 2014, 9:30 am in New Release
What, another release? Yep, I have three of them this month! (Busy for me, but good for you! 😉 )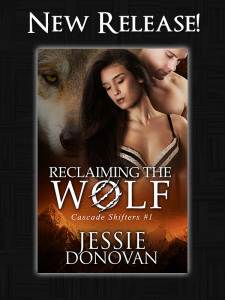 Take an alpha female wolf-shifter leader, throw in a cougar-shifter that just happens to be her ex, and toss with a deadly virus epidemic, and you end up with Reclaiming the Wolf. Intrigued? Then check it out!
Now available for $3.99/2.49GBP/2.99EUR:
Amazon: http://amzn.to/1lRmDox
Amazon UK: http://amzn.to/1rWn9El
Amazon CA: http://amzn.to/1osX1tK
Amazon AU: http://bit.ly/1CRUEtZ
Barnes and Noble: http://bit.ly/1twSyJH
All Romance: http://bit.ly/1nLwszK
iTunes: http://bit.ly/1nLwQhL
Kobo: http://bit.ly/1lVPgRE
2 Comments
Comments