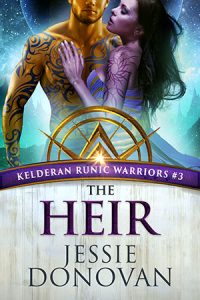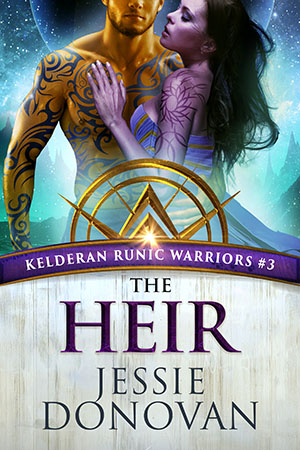 Twenty-three years ago, Azalyn and Prince Keltor were driven apart. Not even Azalyn was aware of the secret she carried at the time. But when enemies of Prince Keltor capture Azalyn to use against him, it sets off a chain of events that will forever change Azalyn, Keltor, and everyone on Keldera in ways no one could've imagined.
As they start to realize that they may still have feelings for one another, there's one big problem: if a prince marries a commoner, there could be war. Can they find a way to be together and still keep the planet peaceful? Or, will Keltor put his duty above all else? The third book of the Kelderan Runic Warriors series, The Heir, is now available! (Full-length story of 78,000 words with a happy ending.)
Amazon || Amazon UK
iBooks || Kobo
Nook || Google Play
Amazon AU || Amazon CA
Amazon DE
NOTE: I'm just waiting for the paperback cover file and then I can put the print version on sale. The audiobook is in production and should be available in March.
Haven't read the first book in the series, The Conquest? You can find all the links on my website for ebook, paperback, and audio.
–>The Heir Synopsis<--
Twenty-three years ago, Azalyn Rippak Sulani had the misfortune of falling in love with a prince. It wasn't long before she was chased away and forced to live a quiet life, working for a merchant family and trying her best to start over. However, after a group of aliens kidnap her and knock her unconscious, Azalyn wakes up in the Kelderan palace and comes face-to-face with the man who broke her heart. Because of certain circumstances, she has no choice but to stay in the palace. But to protect her heart and those she loves, she's determined to find ways to resist the powerful prince and his secrets.
Prince Keltor tro el Vallen is heir to the Kelderan throne and must put duty above all else. Social connections, especially those with love involved, are dangerous. So when the only female who ever treated him as a man instead of a prince comes storming back into his life, it takes everything Keltor has to keep his distance and resist the lively, straightforward woman. Otherwise, he might start to wish for what he can't have.
As Keltor and Azalyn start to realize that they fit better together now than in the past, they face a bigger problem. Namely, if a prince marries a commoner, there could be war. Can they find a way to recapture their love and start over? Or, will Keltor's duty to Keldera trump all?