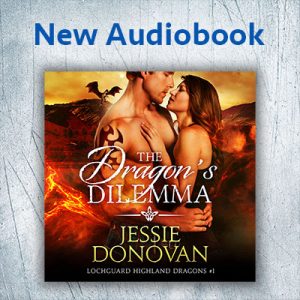 The wait is finally over!
Ready for a flirty, sexy Scottish dragon-shifter hero and his yummy accent? The first book in the Lochguard Highland Dragons series is finally out in audiobook format!
Holly agrees to sleep with a dragon-shifter and try to conceive a child in order to save her father's life. What she didn't expect was to fall for her assigned dragonman's identical twin brother. Can she and Fraser find a future together? Or will duty win out and drive a wedge between the twins?
Narrated by Matthew Lloyd Davies, The Dragon's Dilemma is over 7 hours long and is chock-full of sexy Scots and their accents. It's available on Amazon, Audible, and iTunes. Check it out:
Amazon || Amazon UK || iTunes || Audible
The next Lochguard book, The Dragon Guardian, will be out in audio in the next few weeks, too!
PS–Want to try out Audible free for 30 days and get two free books? Learn more here by clicking here.