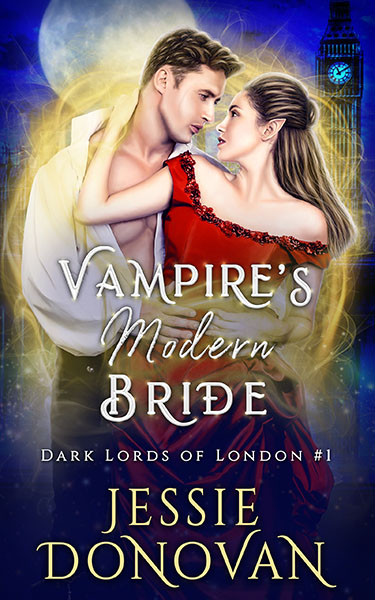 Blackmailed by her father into marrying a ruthless vampire mob boss, Yesenia Vale somehow makes it down the aisle to the male who only wants to use her as a broodmare. After all, she's a fae witch without magic, an outcast, and marrying the bastard is the only way to ensure her brother and sister remain safe from his clutches. However, as soon as the groom slides his ring on her finger, she wishes she could be anywhere else, to have a future of her choosing. In the next moment, the world blacks out. And when she wakes up, she's no longer in twenty-first century Boston but rather in late-nineteenth-century London, blooding a vampire she's never seen before.
Leopold Yates is one of the three Dark Lords of London, ruling over the vampires in the city and doing his best to keep his alliance with the fae witches and shifters to avoid a repeat of their bloody past. Part of how he does it is by remaining in his stronger frozen state, never wanting to find his fated bride. But when a mysterious, half-dressed fae witch shows up in his gaming hell, unconscious, he goes to help her, but touching her skin instantly makes his heart beat again. Even if he hates her for making him weak, he needs to keep her close until he claims her with his fangs and cock. If not, he'll eventually lose his mind and go mad.
Both have something the other needs, and so they strike a bargain. Leo will help Yesenia find a way to contact her family in the future, and she will let him claim her once to stave off madness. But what starts as a business deal ends up morphing into something more. Will they find a way to be together in the past? Or will Leo have to let Yesenia go back to the future to protect her family and lose her forever?

Note: This is a spicy/steamy time-travel romance complete with a grumpy vampire leader, an outcast fae witch with a secret, plenty of heat, and a clash of past versus future views. This story is most definitely not fade to black (ahem, you'll learn what touching a fae witch's pointed ears will do…).Warning: you may end up laughing, fanning yourself, and shouting at your ereader/Kindle.
Formats Available: Ebook, Paperback