VAMPIRE'S FAE WITCH HEALER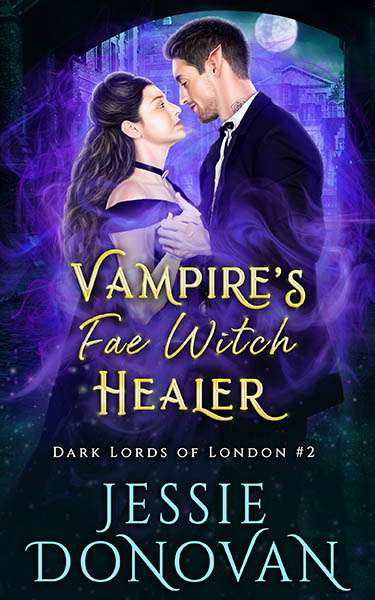 Nora Yates has a dark past, one that means she never wants to find her fated lord or suffer a male's touch ever again. However, when her sister-in-law's brother appears suddenly from the future, broken and barely breathing, she rushes to help him. One touch makes her heart beat, blooding her and determining her fate—she needs to claim him at least once or she'll slowly go mad and lose her mind. Although how she's going to suffer being intimate without her dark memories crashing down and paralyzing her, she doesn't know.
Dr. River Vale wakes up in pain, his new surroundings unfamiliar, and his body weak from his months' long captivity. It's definitely not the same place where he'd been kept prisoner and tortured by a ruthless vampire mob-boss's minions. But when a female vampire shows up with the same last name as the bastard who ordered his kidnapping, he lashes out. The look of fear and uncertainty in her eyes makes him pause and wonder if she's actually afraid of him or merely putting on an act.
As River adjusts to the fact his sister brought him to 1890 London via her newfound magic, he learns more about the vampire named Nora. Her damaged soul calls to him as a healer, and when he finds out he's her fated lord, he wonders if maybe he should give them a chance. But will both of their pasts be too much to overcome to find happiness? Or will being together make them stronger than they ever thought possible, enough to shine light on the darkness of their pasts and create a happy ending after all?
Note: This is a spicy/steamy time travel romance featuring a fae witch hero with a tough exterior but a heart of gold, a vampire heroine who is still overcoming her dark past, a journey of healing, and plenty of heat. It's definitely not a fade to black book (you'll learn just what a vampire's bite can do…)
Formats Available: Ebook, Paperback