Stonefire Dragons Universe #2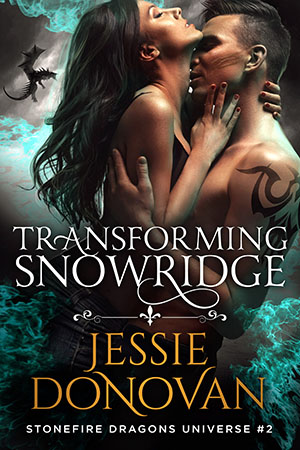 Rhydian Griffiths is the leader of Clan Snowridge in the North of Wales. Not only does he lead his clan, but he also takes care of an orphaned boy on his own. The deadline for any remaining family to collect him expires and Rhydian decides to adopt the boy himself. However, hours later, a human female shows up at his clan's gate, claiming she's the boy's aunt. While he'd usually admire her fire and determination, his dragon says he wants the human, but Rhydian must resist. The last thing he needs is a human living on his clan.

Delaney Murphy spent the last three months jumping through hoops to prove she was Rian's aunt. When she finally finds the blasted Welsh clan hidden in the mountains, she's told the deadline expired. Even though they try to scare her by tossing her in a prison cell, the action only makes her more determined. After all, Rian is her only family. Provided she can ignore how the serious dragon clan leader looks at her long enough to come up with a plan, she'll be able to raise her nephew as her own.

As Rhydian tries to ignore the female, a threat reminds him of why any human inside Snowridge could be in danger. He has to work together with Delaney to ensure not only her safety but Rian's as well. Of course, it might mean giving up the family he's secretly always wanted but long denied.
Formats Available: Ebook, Paperback
Looking for the Audiobook Version?