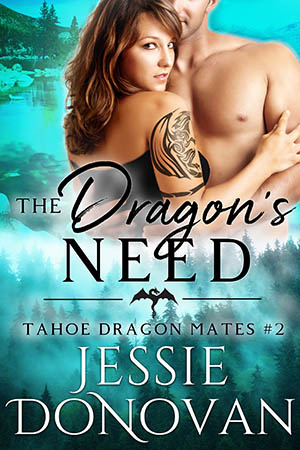 Tired of overprotective dragon-shifters, Gabriela Santos decides she wants to lose her virginity to a human male via the Tahoe area dragon lottery. After years of trying, she's finally selected as one of the participants. Of the hundreds of humans who want to be with her, it's the male staring at the ceiling who catches her eye. And after a bit of honesty and insight into why he's there, she picks him. However, soon one kiss changes her future forever.

Only to try and forget his cheating ex-wife does Ryan Ford agree to enter the dragon lottery. He has no expectations of the dragonwoman walking the aisles to pick him. However, when his mind wanders and he stares lost in thought, the dragon lady calls him out on it and refreshes him with her straightforward manner and wit. Add in the instant spark between them, and Ryan agrees to sleep with her to try to give her a baby. But then one kiss brings out her inner dragon, and Ryan quickly learns that he's her true mate and has to accept a frenzy or try running away.

As the pair come to terms with their fate, they soon start falling for one another. But when someone targets Ryan, will he survive and find a way for them to be together? Or will he have to leave both Gabriela and his unborn child to stay alive?

NOTE: This is a quick, steamy standalone story about fated mates and sexy dragon-shifters near Lake Tahoe in the USA. You don't have to read all my other dragon books to enjoy this one!
Formats Available: Ebook, Paperback (soon after release)