Lochguard Highland Dragons #10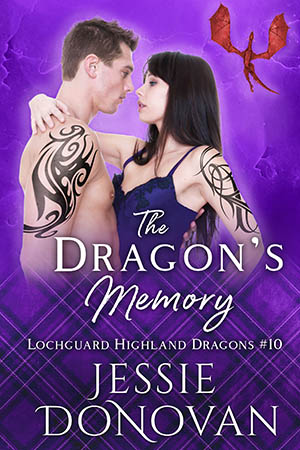 Logan has loved Emma for years. But after he stole a kiss when they were teens and she brushed it off with a laugh, he tried to settle for being her friend, especially once he realized she wasn't his true mate. However, no matter how much time passes, he can't seem to get over her. Deciding to leave Lochguard and finish his doctor studies, Logan hopes that with space he can forge a new path. As a sort of farewell, he agrees one last time to help her with her geocaching—a modern form of treasure hunting—adventure. Except during the excursion, he pushes Emma out of the way to save her life and gets hit on the head, knocked unconscious, and nearly dies.
When Logan wakes up and doesn't recognize or remember Emma, her world tilts. If her best friend being gone isn't enough to worry about, this different Logan keeps looking at her with heat in his eyes. Years ago, she'd pushed him away to avoid her greatest fear—falling in love. However, as he helps her on her treasure hunt, each touch, whisper, and kiss tempts her to take the plunge. It takes everything she has to resist him, especially since his memories don't seem to be returning.
As the stakes and danger amp up in her quest to find the final clue, Emma soon finds herself falling for Logan. Will she finally give in and risk her heart? Or will Emma find a way to resist Logan and watch him walk away to prevent any sort of pain in the future?
Formats Available: Ebooks, print soon after release