Lochguard Highland Dragons #10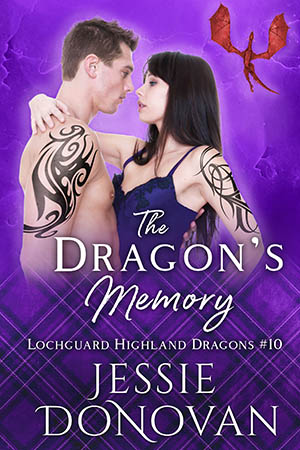 Logan has loved Emma for years. But after he stole a kiss years ago and she brushed it off as a laugh, he tried to settle for being her friend, especially once he realized she wasn't his true mate. However, years later, his feelings haven't changed and so he decides to leave Lochguard and finish his doctor studies so he can forget her. He agrees one last time to help her with her geocaching—a modern form of treasure hunting—adventure, as a form of closure. Except during the excursion, he pushes Emma out of the way to save her life and gets hit on the head, knocked unconscious, and nearly dies.
When Logan wakes up and doesn't recognize Emma, her world tilts. If her best friend being gone isn't enough to worry about, this different Logan keeps looking at her with heat in his flashing dragon eyes. And when he starts flirting with her, it's not long before he takes a kiss, one that soon combusts into an unforgettable night of steam and passion. Even if she now sees Logan as a sexy male and not just a friend, she doesn't know what'll happen when his memory returns, which only exacerbates her fears of falling in love.
Not that amnesiac Logan gives her many chances to worry about that. He seems determined to win her as his own, and with more than magic and adventure in the bedroom. He helps her with solving clues for her biggest treasure hunt to date, giving her the gift few ever have—acceptance of her goals and his full support instead of dismissing her as if she doesn't know her own mind.
But as the stakes and danger amp up in her quest to find the final clue, she soon finds herself faced with the impossible choice—saving her clan and giving up Logan, or having Logan and risk everyone else she loves.
Formats Available: Ebooks, print soon after release