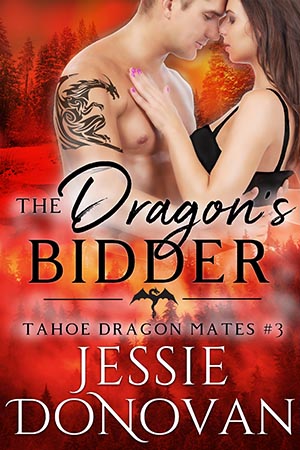 In exchange for favors to help his clan, PineRock's dragon leader Wes Dalton agrees to participate in a charity auction. After all, one evening dining or dancing with one lucky bidder shouldn't be too hard to endure. Then he notices the true mate he can never have in the audience—Ashley Swift. When she wins him for the night, the battle begins between what his dragon half wants and what his human half tries to deny.
Ashley Swift worked her way up the ranks of the American Department of Dragon Affairs and knows the ins and outs of dragon-shifters in her area. And while it's against the rules and she knows it, Ashley is drawn to PineRock's clan leader. They've danced around each other for years, but Ashley finally found a way to spend an evening with Wes—a charity auction. Nothing in the rules prevents her from bidding, and she wins. One night is all she needs to get him out of her system, or so she tries to tell herself.
As the pair dance around their undeniable attraction to one another, more than Ashley's job or Wes's position is at stake. They stumble upon something brewing in Reno and it's up to them to stop it. Only then can they think of a way to skirt the rules and be together.
NOTE: This is a quick, steamy standalone story about fated mates and sexy dragon-shifters near Lake Tahoe in the USA. You don't have to read all my other dragons books to enjoy this one!
Formats Available: Ebook, Paperback (soon after the ebook release)
Audiobook Version Coming Late 2020 / Early 2021