Lochguard Highland Dragons #8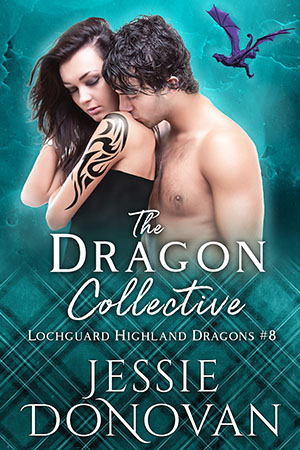 Over the last ten years Lachlan MacKintosh has kept his sobriety through hard work, focus, and strict routines. Then he meets one dragonwoman a year prior, a woman with easy smiles and humor, and he starts to wonder if his routines are enough. When he's assigned a major project on Lochguard, one to bring together human and dragon artists, he's forced to live with the dragon-shifters and work with the woman who caught his eye all those months ago. He tries to resist her, knowing temptation could be his downfall. But instead he falls more under her charm with each passing day, making him wonder if he's strong enough to overcome his demons so he can have her.
Despite Cat MacAllister's never-ending schedule of helping her family, art is her true passion and so when she's asked to help with a major human-dragon art collective, she jumps at the chance. The only downside is the human male in charge—he's the one she met the year before and has been constantly sketching ever since. She attempts to keep their relationship professional, but soon she asks him to kiss her and it changes her life forever.
As the pair try to figure out if they fit together, they not only have to face Lachlan's past but a new threat emerges before the start of the art project. Will they find a way to stay together, or will Lachlan have to give up everything to protect those he cares about?
Formats Available: Ebook, Paperback soon after release