Kelderan Runic Warriors #2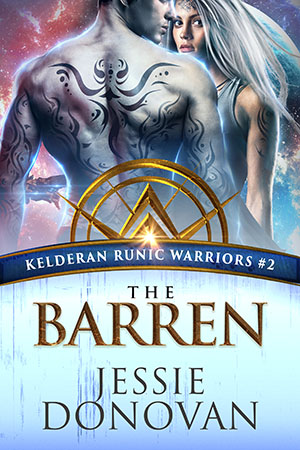 Vala Yarlen is one of the Barren—an infertile female ostracized from the rest of Kelderan society with others of her kind. So when she's given the opportunity to join the new colony on a human-occupied planet, she jumps at the chance for a fresh start. The only downside is that she has to serve General Thorin Jarrell for the duration of the journey. The cool, distant male goes out of his way to show his disdain of her. But for the chance at freedom, Vala endeavors to endure.
Thorin Jarrell is the general in command of the Kelderan colony transport ship. After years of concealing his true parentage and working his way through the ranks of the army, Thorin will do anything to make his mission a success. What he didn't count on was to find the female assigned to clean his quarters unconscious on the floor. The reason why throws his life into disarray.
Yet as Thorin tries to help Vala recover, the ship encounters trouble. Will they ever reach Jasvar alive? And if so, will Thorin and Vala find a way to be together despite the mountain of obstacles standing in their way?
Formats Available: Ebook, Paperback, Audiobook
Looking for the Audiobook Version?